An Ode to Mothers!
My Mother
My Mother, my friend so dear
Throughout my life you're always near.
A tender smile to guide my way
You're the sunshine to light my day.
Author Unknown
Did you know that we've been celebrating Mother's Day in the United States for more than 100 years?  First celebrated in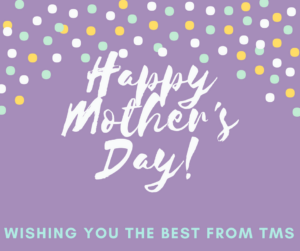 1908, Anna Jarvis held the first Mother's Day as a memorial for her mother in West Virginia honoring the work her mother did in the Civil War caring for wounded soldiers.  Although rejected as a holiday by the U.S. Congress in 1908, all U.S. states observed the holiday by 1911 and it was designated a holiday by Woodrow Wilson in 1914.  Today Mother's Day is celebrated in many countries across the world.
The rapid acceptance and recognition of this holiday underscores the most important lesson a child can learn – never back away from a challenge!
This Mother's Day TMS honors all of the mothers who have supported, nurtured, and helped us become the people we are today.  Whether you are able to spend time with your Mother this Mother's Day in person or only in your heart we hope you find a way to cherish the memories, moments and love you received from your mother.