Jets Descale
The Challenge
Urine combines with minerals in the water to form a thick, hard layer on the inside of the sewage pipes. This scale build-up can restrict the flow of sewage, reducing the vacuum efficiency and eventually blocking the pipes. Especially in horizontal fittings, the aggressive salts can attack valves and piping over time.
Jets Descale enables You to:
Prevent the whole issue of scale build-up altogether by using the recommended dosage of liquid in toilets or pipes as a routine treatment.
Remove mild scale build-up without closing down toilet sections. Descale and disinfect in one easy operation.
Strip severe build-up bi closing down toilet sections and running an intensive booster programme designed to tackle the toughest scale.
After flushing, use Jets Descale regularly to stop scale building up again.
The Solution
Prevent scale and keep sewage flowing freely using Jets Descale. Routine use of Jets Descale puts an end to scale. This saves time and money on maintenance, avoiding the need to shut down toilet sections and renew pipes to deal with scale build-up.
Jets Descale is a unique biological product that prevents build-up and strips scale quickly, safely and efficiently, with no need for high pressure or harsh chemicals.
Jets Descale is gentle on users, pipes and the environment. It does not corrode metal or damage PEH pipes. It does not dissolve gaskets. It is formulated with inhibitors to prevent damage to the system. And it complies with the strictest regulations concerning the environment and safety.
Jets Descale can safely be discharged directly to sea or through existing sewage systems inland after use.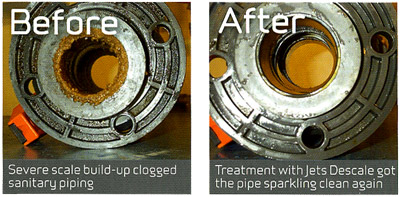 The valve shown above is from Statoil's production and storage vessel "Norne". The sanitary piping system in this vessel was severely blocked. The system on board was treated with Jets Descale, and the result was a completely clean pipe system. In further tests, a pipe piece from the vessel was immersed in a tank containing Jets Descale solution. After just 14 hours, with minor agitation of the tank, all the urine salt crystals were almost completely dissolved.