Last Wednesday we had a soft launch of our new online roundtable for maritime industry experts. In a global environment where information on the COVID-19 pandemic changes daily—if not hourly—we've decided to come together and host a weekly discussion where maritime leaders can share their insights into the challenges they face from coronavirus. Our attendees are truly global; the first roundtable attracted nearly three dozen participants from the US, Europe, and Africa.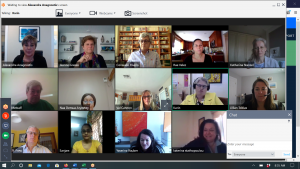 "This Week In Maritime—A Roundtable with Maritime Experts" is educational and discussion-focused, designed for information-sharing in the maritime industry. Each Wednesday we will tackle various topics, and our experts will address the key issues the industry is facing that week. Be part of the conversation!
Each roundtable will be 60 minutes long. We'll use the weekly platform to share information, resources, and experiences on such vital topics as seafarers, free trade and port restrictions, regulatory challenges, and testing and certification. We're doing this to bring together all the facets of the maritime industry. And best of all, all the roundtables are completely free.
Session #2, which will be held on April 29 from 8:30–9:30 a.m. EDT, will focus on our #HeroesAtSea—our seafarers. We will discuss several seafarer-related issues, including:
crew changes and general restrictions;
medical screening (including testing);
seafarer welfare onboard;
onboard management of risk, including crew training and personal protective equipment (PPE);
plus any related topics you may wish to raise!
This roundtable will be moderated by Karin Orsel of MF Shipping Group. Featured experts will include Consuelo Rivero of ERSHIP Grupo, and Lesley Warrick of Seafarers House of Port Everglades. We will also have a Master on the call to provide first-hand experience and perspective.
Founding Members of This Week in Maritime are Alexandra Anagnostis-Irons, Total Marine Solutions; Jeanne Grasso, Blank Rome LLP; Kathy Metcalf, Chamber of Shipping of America; Karin Orsel, MF Shipping Group; and Consuelo Rivero, ERSHIP Grupo.
We will host these roundtables every Wednesday. Be sure to include us as a standing virtual gathering on your calendar—and feel free to share this invitation with interested friends and colleagues.
Online Meeting Details:
This Week in Maritime—A Roundtable with Maritime Experts
https://global.gotomeeting.com/join/785133061
You can also dial in using your phone:
United States: +1 (872) 240-3311
Access Code: 785-133-061