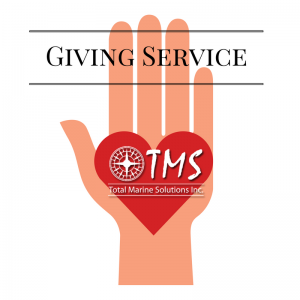 At TMS we're proud of the work we do, both with our clients and vendors and also to support our community.  Each year the TMS team participates and supports a number of local community activities. Here's just a taste of how we are involved:
WISTA-USA
If you've worked with TMS for any length of time you probably know about our association with the U.S. Chapter of the Women's International Shipping and Trading Association.  With Alex Anagnostis- Irons serving as the Association's U.S. president the TMS team is active and happy to volunteer at many WISTA events around the country.  We're proud to sponsor educational industry events and networking opportunities as part of our support of WISTA.
Seafarers' House
TMS's Alex Anagnostis- Irons is proud to serve on the Board of Directors of Seafarers' House, a non-profit seafarer's welfare organization located at Port Everglades.  The TMS Team volunteers their time and energy in support of Seafarers' House at a number of their events throughout the year, raising awareness and increasing opportunities to support mariners who come into Port Everglades.
Fleet Week Port Everglades
For the last several years TMS has been proud to sponsor the Salute to Women in the Military Luncheon as part of Fleet Week Port Everglades.  We love sponsoring an event that connects women in the military to private sector mentors and gives them the opportunity to build relationships with military leaders who are dedicated to advancing the opportunities for women in the military.  In the past TMS has also sponsored the Legion of Honor ceremony at Fleet Week as well as military receptions and events.
Coast Guard Foundation
TMS is proud to support the Coast Guard Foundation and honor the men and women of the U.S. Coast Guard.  It has been our pleasure to sponsor events on behalf of the Coast Guard Foundation as well as volunteer at local events and activities to raise money for our guardsmen and women.
Marine Industry Cares Foundation
TMS' Sprockets are proud to support of the Marine Industry Cares Foundation at its annual Spin-A-Thon. For the last several years we've helped spin to raise money for local organizations.  In the past eight years, this event has raised over $750,000 for organizations like the Children's Diagnostic & Treatment Center and Kids In Distress .